Oh yeah. We went to the Neil Diamond concert last night. It was awesome! As much as I tried to remember the whole playlist to give you a song by song analysis, I couldn't (lucky for all of you readers). But, I do have a list of observations on this fabulous night of nights.

1. The only other Neil Diamond concert I've been to was at the Conseco Fieldhouse in Indianapolis, IN in 2001.

2. That concert was right after 9/11 and the opening song was America. I cried. I'm such a geek.

3. This concert was at the Qwest Center in Omaha. It is an awesome place. Beautiful. Well, as beautiful as a huge convention center can be. Parking was cheap and close (Sugar Daddy was pleased with that, of course!).

4. I still couldn't believe how close we were when the usher was leading us to our seats. We were in row 14 seats 19 and 20. There were 40 seats across so you can imagine where 19 and 20 were. RIGHT IN THE CENTER! I estimate we were 20 yds. away from Neil. SD says 30 yds. Let's just say we were close. I saw him as well without binoculars as I did with them in Indianapolis.

5. There was a 7ft. tall man (only a slight exaggeration) in row 9 seat 20. Sometimes he blocked my view. Luckily, he wasn't that big of a fan and didn't stand up all of the time. I could just lean over and see Neil better than I could on the big screen.

6. The lady next to me couldn't clap on the beat. It was more than mildly annoying. She also had a bigger butt than mine and she was spilling onto my chair. Gross. Luckily SD only takes up about 1/3 of his own chair so I used part of his.

7. Even with the giant and the big butt, no rhythm lady, it beat our Indy concert neighbors (drunk middle aged women with filthy mouths). I shouldn't be complaining.

8. During the song, Play Me, Neil gave me a little nod and a wave. Even SD attests to the fact that it was me he was looking at. Probably because everyone was sitting down for this one and as soon as he looked my way I jumped up and waved. I'm not even embarrassed to mention this! I'm such a geek.

9. Cherry, Cherry is probably my favorite Neil song. He played his guitar on this one. He is such a rock star.

10. I thank my parents for listening to Neil Diamond as I was growing up. My sister and I used to jump on the trampoline to Beautiful Noise and Forever In Blue Jeans.


11. I wore blue jeans. I also broke out my DiamondGirl shirt. Yep. It's sparkly. I got it at the last concert.

12. I'm amazed at the fan base Neil has. There were people there of all ages. And, we all knew the words. Women love him. Men love him. It was a big difference from the Enrique Iglesias concert where only the women were singing and dancing. The men were just there to make their women happy. Poor SD. I don't think he minded too much.
13. Sweet Caroline. SO GOOD! SO GOOD! SO GOOD!
14. Red Red Wine. Hmmm. Definitely not my favorite song. I didn't like it much before UB40 covered it and once they did, my dislike for the song grew even stronger. It is amusing to see Neil try to sing in a reggae style, though.
15. I'm glad Barbra Streisand doesn't go on tour with Neil. His backup singer does a much better job at You Don't Bring Me Flowers (at least in my opinion). I don't have much of a tolerance for Streisand's voice. It is usually during this song that I get a little "break" from singing and dancing. My neighbor didn't clap her hands during this song either so it made it even more enjoyable!
16. Holly Holy. Anytime I hear this song now I can only think of the movie Saving Silverman. Have you seen it? The plot is silly. If you're a Neil fan, he has a cameo at the end. The movie's stars are obsessed with Neil Diamond so there are lots of good songs and funny Neil"isms". The credits roll to Neil in concert (with the Saving Silverman cast doing backup) singing Holly Holy. YEAH---huh.
17. I think the most heartfelt performance of the night was Love on the Rocks. This song must mean a lot to him. I don't like the song that much but watching him sing it gave it more meaning.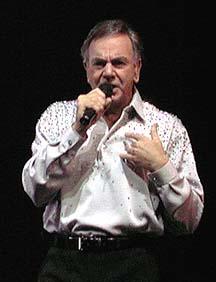 18. Second most heartfelt performance goes to I Am, I Said. I knew this was close to the end of the concert so I wasn't too happy to hear this song. But, Neil's awesome and I knew there would be at least 2 more songs of encore.
19. Cracklin' Rosie. Play it now! Play it now! Play it now, my baby! I was waiting for this song most of the night. I forgot he usually puts it at the end.
20. Brother Love's Travelling Salvation Show. This one was the most exciting visually. Whole sections of the stage can be raised and lowered (below audience view). For this one, they lowered the band and raised up Neil. They lowered the lights also so they were right on him. Then he did his "preaching" section of the song. It was fun. But, again, I knew it was close to the end so I was starting to feel a little sad it was over.
21. I am so glad that I went to this concert. The seats were so great, the music was fabulous, and SD was happy. Neil Diamond is 64. I don't know how long he'll keep touring. I told SD that I don't think I'll need to see him in concert again. But, I don't know what I was thinking. It's going to be hard to keep me away from any farewell tour, that's for sure!
22. Thanks for putting up with this blog entry all about my obsession with Neil. I'll be back to my knitting tomorrow!
23. I need to have 25 entries.
24. Sugar Daddy let me sleep in this morning. He went to work late. He said it was because he knew I was tired. When I got up he was reading Harry Potter. Hmmm.... Either way, I got my sleep.
25. Until tomorrow. I also have some info to share on Project Fat Arse. I know. You can't wait.